Banzai Attack
---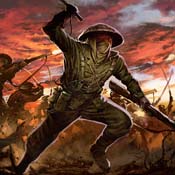 Once activated this consumable has an area of effect. All friendly units within the consumable's radius are inspired to battle for the glory of the Emperor. The receive a bonus +50% movement speed, +50% Firepower, - 50 health.
The Banzai effect lasts 3 turns. While in effect, the units are colored to indicate the Banzai boost.
Costs 3 Command Points.
Ad blocker interference detected!
Wikia is a free-to-use site that makes money from advertising. We have a modified experience for viewers using ad blockers

Wikia is not accessible if you've made further modifications. Remove the custom ad blocker rule(s) and the page will load as expected.