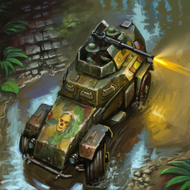 Statistics
Faction:
Latin Junta
Class:
Light Vehicle
Units:
1
Defense:
Armoured, Light
Sight:
40
Health:
175
Mobility:
11
Damage:
75-125/100-150
Range:
60
Purchase
Cost:

= 2,500



= 240
Deploy
Cost:

x0



x4



x0
Abilities
| | |
| --- | --- |
| Weapon | Rending/Rending AA |
| 1st ability | Autocannon Burst |
| 2nd ability | AP Rounds |
A rare example of a wholly Junta-designed vehicle, the Panther AC is the result of many lessons learned in the creation of reverse-engineered units like the Airboat. Essentially an armored truck platform, it features a turret-mounted autocannon capable of quite effectively engaging ground targets. The efficient and rugged design, reminiscent of many Soviet automatic weapons, stands up well in the brutal environments the Junta call home. Coupled with a remarkable elevation traverse, the crew is able to rapidly switch to Armor Piercing rounds in order to devastate airborne targets.
Ad blocker interference detected!
Wikia is a free-to-use site that makes money from advertising. We have a modified experience for viewers using ad blockers

Wikia is not accessible if you've made further modifications. Remove the custom ad blocker rule(s) and the page will load as expected.